How I Ran one of the toughest Hill Half Marathon (21 kms) without much preparation
It was a fresh wet Sunday morning on 18 September 2016.  I ran and completed one of the most dreaded and feared race of my life.  The location was Satara, a well-known town in western Maharashtra and the race was called Satara Hill Half Marathon (SHHM).
The Event
Satara Hill Marathon is an annual event started in 2012 and year by year it is getting popular.  They have even entered GUINNESS WORLD RECORDS for the category – "Most people in a mountain run – single mountain".  It is so much popular in Mumbai Pune marathon runners that, only for those 2 nights the hotels in Satara due to limited availability charge 3-4 times the normal rate for nightstays.
The race is usually divided into 3-4 events. 21k (21 kms) main half marathon, a 10k (10 kms) event, a 5k run, and 3 kms walk or run for children and elderly.
The Route
The terrain is extremely tough, with upward climb of approximately 400 meters. It starts at 678 meters from above sea level reaching peak of 1059 meters at halfway level and then downhill U-turn.  Those of you who are regular runners or are trekkers, will understand the difference between flat surface running and hill climb.  For 21k you have to climb up 10.5 kms and then climb down to complete the race.  In 10k race, it's just 5k up and 5k down.
Here's what Dr Sandeep (Race director, one of the founders of SHHM) has to say about the difficulty of the terrain.
It starts at 678m above sea level, climbing starts right from the word go, and it's all uphill until the halfway mark at the turnaround.

 

From then onwards, it's all the way downhill to the finishing point. The course is a really testing one, definitely a challenging one for even veteran runners, not to mention beginners, who should feel super proud, if they manage to do this one as their first half marathon !!!
More details of the route here.
The terrain is also very beautiful. You get to see the whole Satara city from the race route and a magnificent sunrise can also be witnessed during the morning run.
You nearly touch the heritage Kaas Plateau of beautiful flowers.   Especially since the race happens every year in August- September, it's the rainy season and clouds are helpful in keeping away the sun.  Rain drenches you.  And the scenery enthralls you.
My Fears
I used to run 10k every year for precisely this reason. I wanted to experience a thrilling race and I didn't feel confident about 21km climb up. In fact, I dreaded the climb up.  Never felt confident that my heart and legs will endure 10kms run up the hill if I run 21K race.
This year however the organizers decided to do away with 10k event itself and the flagship 21k race remained the main event.  I had only two options.  First was, forget about the excitement, thrill of a mountain race. Second, participate in 21kms race and try and overcome the biggest fear I had.  I chose the second.  The urge of new experience and excitement took over the fear of the uphill climb and endurance of the race.
There's a reason why I lacked confidence.  I have run 21k half marathon races earlier also. Which includes, 3-4 times Standard Chartered Mumbai Marathon (SCMM) and 1-2 other places. But such events happen in December onwards and in good weather.  You get to prepare for the race.  For Satara race however, due to Mumbai monsoons, it is difficult to regularly practice running long distances.  Especially for a lazy person like me, there's one more excuse of not to practice when it rains.  Also, the climb up, requires hill training.  Your knees, lungs and heart are not so well conditioned for a mountain race if you are used to practice on flat surface. More difficult in the case when you are a desk worker like me- who goes to office 5 days a week and just sits in front of a computer.
So much stacked against me… So, How did I do it ???
Preparations: Required vs. What I actually did.
Any 21k race requires good deal of long distance running practice. And in addition to running multiple tens of kilometres regularly one also needs to do strength training for legs and core.
In one of my previous half marathons, I had injured my knee ligament.  After, the race I had visited a physiotherapist friend.  While treating me, she asked, how you prepare for marathons.  I said, "I run".
"And, What about strength training for legs?"
"Huh???" I was flummoxed. "I also do Yoga twice a week"
"No! Not enough. You need to also do strength training like squats, lunges, core training etc.  Otherwise you'll end up injuring different muscles every time."
I was enlightened.  I was given different exercises while I was treated. But I received a lesson.  I incorporated some of the leg exercises in my routine there onwards.
But, this hill marathon stuff was even tougher, so to say, at least to my mind.
Here's how I prepared.
I had just recently married in April first week.  I went to Greece in May, and then Eastern Europe in July-August 2016.  And then Monsoon rains were at the peak in Mumbai during almost the whole season from July to September.
So there was no running, at least in the name of formal marathon practice since early March till the race day on 18th September.  I had barely managed to run 54 kms in these 6 months. In the days preceding the race, I managed to clock 12-13 kms, which included couple of 5k runs.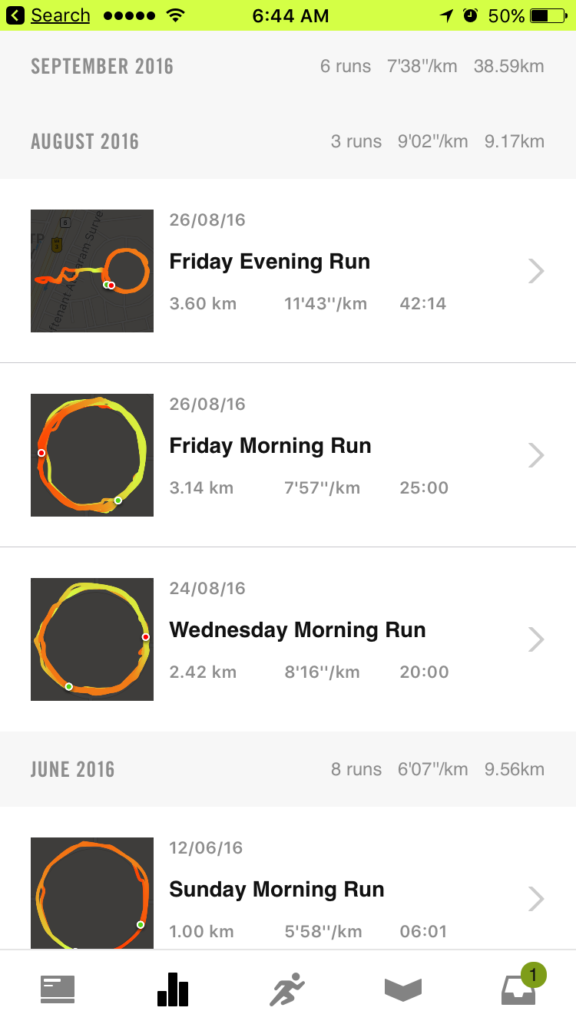 And, what about hill training then? Well, even here, there was none of it. I ran on flat surface just in front of my house.
To alleviate my fears of increase heart rate due to hill climb, I decided to prepare for it in a different way.  I started to take stairs in office.  I work on 6th floor.
Since late August 2016, I avoided lift in office.  I averaged 15-20 stories every day in office.  This, I continued for 20-25 days, till the raceday on September 18th.
I don't know how much it really helped in actual half marathon that Sunday.  But, psychologically at least I was self-patting for preparing in a novel way.  I believed it helped my knees and heart rate training. :p
Health Challenge
I suffer from Ankylosing Spondylitis. It affects the spine and causes backaches, rib-cage pain and heavy morning stiffness.  I am actually off-medication as I have controlled it through mental conditioning and yoga practice.
But, there are occasional flare-ups.  For 1-2 weeks, it will give me pains and cause stiffness. For which, I take mild painkillers (NSAIDs).  Here also it started in August and continued in September till the race day.  The stiffness in back caused back muscles to go into Spasms. So, I was suffering from chronic stiffness and pains in the back and also fighting spasms, which caused me difficulties even to turn while sleeping.
Travel
I was to stay at a friend's place at Satara.  In fact reaching Satara, a day before was also a worry.  Satara is 250 kms from Mumbai. I had not got in touch with any race participant, so that I couldn't hope for any carpool.  Choice then remained,  public transport or own car.  Taking own car, I feared if any injury would land me difficulties in driving the next day back to Mumbai.  Even my backache might aggravate by the long drive.  Public transport was to take longer time and arduous.
Fortunately, an old friend from nearby Satara called me up and informed he was in Mumbai and travelling towards Satara the next day.  He agreed to drive the car.  I was relieved.
Raceday Thoughts
I reached Satara, but I was extremely tensed about completing the 21k race.  How do I complete the marathon?  The backache and spasms were playing on my mind.  I had taken mild painkillers to alleviate pain.
It was raining heavily the whole Saturday, while I was travelling as well as while I collected bib and T shirt from the event Expo.
I run with my iPhone to track the run.  I feared the rains might force me not to take the phone with me. I also feared in heavy rains I might not be able to run.
But at the expo, seeing the exuberance of the crowd, the elderly and the ladies equally participating enthusiastically, I decided I had to complete the race anyhow.  I will run slowly.  I'll walk.  I'll take more than 3 hours for 21kms but I will surely complete the race.
Race
I woke up early morning on Sunday.  The backache was nearly relieved.
I reached race venue.  There were so many participants, thousands of them.  It was drizzling, extremely light.  I used armband to protect my iPhone from rains.
Race started. I kept telling myself to give it everything. I planned to run hard on flat surfaces and go slow or walk on uphill route.
Climb up
There wasn't much difficulty to complete first 2-3 kms.  You move with the enthusiasm of the runners' crowd.  You use up fresh legs and energy.
After 3 kms the real steep climb started. I kept telling myself to not stop.  I walked, then ran for few meters and then again I walked.  Plenty of locals had gathered around the track to cheer up the crowd.  They had put up music bands, dhol, DJs, speakers.  Motivating songs like chak de and Wo sikandar hi doston were playing.
Meanwhile 1 hr 45 mins, 2 hr buses went by.  I was tracking 2:15, 2:30 buses by half time. (buses are timed runners who are sure to complete the run on advertised times and they carry placards showing the bus time. You need to follow and match their pace if you want to finish within such times. )
I was trying to complete halfway 10k mark by 1 hr 30 minutes.  I drew spirit from the runners, the landscape, the cheering of the crowd.  I drank Enerzal or water every 2-3 kms to keep myself hydrated.  I was able to reach halfway and take a U turn by 1 hr 35 mins.  I was walking real slow by this time. And now, the easier part of the race – downhill 10 kms remained. By now, I was congratulating myself for completing the race.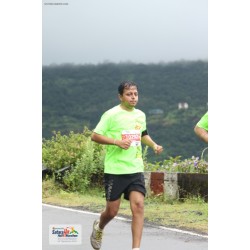 At the about turn, I made up my mind to make most of climb down.  I ran the remaining race with maximum effort I could manage with the remaining energy, walking only for few meters in between.
I managed to complete the race in 2 hr 46 minutes.
I was exhausted. I was elated.
It was time for after race pics with medal.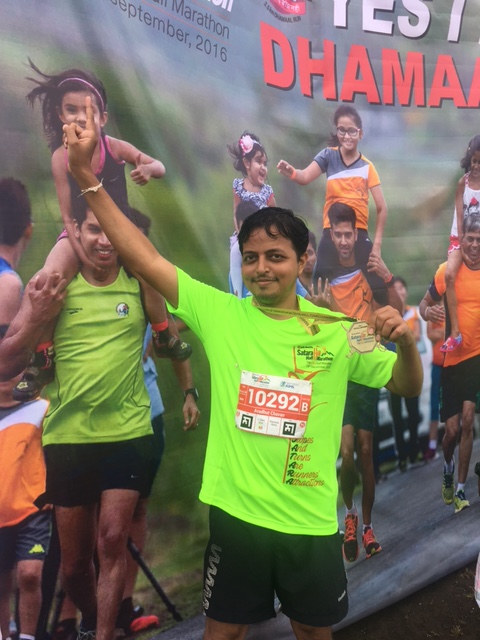 I had just completed one of the hardest races of my life. And there was no injury. The timing was good too.  My best time on flat surfaces was 2 hr 15 minutes. 2 hr 46 minutes was much much quicker than what I had envisaged going into the race.
Advisory to beginners: What to do and what not to do during hill marathon
Though I completed successfully with minimal preparation, I still think you should never participate in marathons without preparations.
Prepare well. For hill marathons, practice on uphill and downhill terrain before the race.
Use stairs whenever you can.
Train well your legs and core. I had been training squats and push ups regularly.  There was no injury this time and I was able to drive down 250 kms to Mumbai after the race.
Keep a track of your practice.
Do not sip away all your energy in the beginning of the race. Divide the effort equally.
Use the downhill path to max out your effort. It will improve your overall timings.
Do not give up on any hard target without effort.
Treat yourself with a grand reward for completion of hard targets
p.s. Edit: Be careful to practice downhill before implementing in race, it may lead to injury if you are maxing out beyond your body capacity.